Partner, Grant Thornton LLP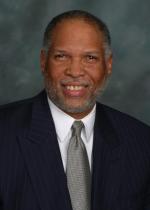 Mr. Goode is a Partner in Grant Thornton Global Public Sector (GPS) with over 35 years of diversified management consulting, accounting, and financial systems development experience.  He is our lead partner responsible for practice management, business development, and delivery of solutions for our Public Sector Financial Institutions Practice. He currently directs the Grant Thornton Program Management Office which supports multiple projects our firm is performing for Fannie Mae in SOX/IT testing arena. He is also Engagement Partner for the information security work we are doing for the National Credit Union Administration and served as Colleague Partner on the strategic planning engagement we recently completed for the CFTC.
Mr. Goode has significant experience in reviewing, evaluating, and improving internal controls as well as designing and implementing business systems.  He has led several multi-year, large-scale systems implementation efforts including the development of new accounting systems for USAID and HUD.  The scope of work at USAID, for example, included all systems development life-cycle phases and addressed business areas such as Direct Loans and Housing Guaranty Accounting, Funds Distribution, Funds Usage, Accounts Payable, Accounts Receivable, and General Ledger.
Prior to joining Grant Thornton, he was Director of Finance and Administration Systems for Fannie Mae.  In this capacity, he provided systems development and maintenance services for the company's Finance, Human Resources, Corporate Information Services, Administrative Services, and Treasury Departments. While at Fannie Mae he led an interdisciplinary team tasked with defining business requirements for Budgeting, General Ledger, Project Cost Accounting, Accounts Payable, Fixed Assets, Payroll and Human Resources.  Application software products licensed by SAP and Oracle Corporation were examined to evaluate their support of Fannie Mae's requirements in areas of functionality, compatibility with company's technical environment, performance, and security.
Mr. Goode has a Bachelors Degree in Accounting from Howard University and a Masters Degree in Technology of Management from the American University.  He is a certified Public Accountant (CPA), Certified Information Technology Professional, and Certified Computing Professional (CCP).
Mr. Goode is a member of the American Institute of Certified Public Accountants (AICPA) and the Association of Government Accountants (AGA). He also represents our firm on the Accountants Roundtable, a forward looking group of executives and financial management professionals committed to improving accountability in the public sector.  Mr. Goode is a frequent speaker at professional development events sponsored by the AGA and the Information Technology Association of America (ITAA).