AGA Hawaii In The News
with Tom Temin and Jane Norris September 21, 2009 - 10:51am
'Aloha' also means financial management development to AGA
Conference Chair Patrick Oki Interviewed. Hear the five minute audio clip:
"It's not every day you get a chance to hone your financial skills and lounge around in your Hawaiian shirt. But October might just be your month. Registration is open now for the 2009 Governmental Professional Development Conference, October 14 thru 17, on Waikiki Beach. Patrick Oki chairs the conference, which is co-hosted by the Association of Government Accountants and co-sponsored by American Society of Military Comptrollers. He told us this conference is for both the experienced and newly minted financial pros."
-Tom Temin and Jane Norris. Federal Radio
AGA Hawaii establishes $50,000 Scholarship at University of Hawai'i at Mānoa Shidler College of Business.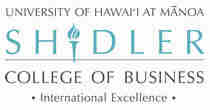 This scholarship, formally called Association of Government Accountants of Hawai'i Endowed Scholarship Fund, assists students pursuing an accounting or auditing career in public service and honors past and future AGA Hawai'i Chapter Presidents, Officers, Directors, Committees, and members. The initial gift of $25,000 was matched by Shidler's Matching Funds for a total of $50,000.
"Our AGA membership recognizes the importance of establishing a perpetual scholarship for accounting students at the Shidler College of Business," said AGA President Spencer Lum. "By supporting the education and development of accounting students with a career preference in the public sector, we are ensuring a healthier financially managed government in the future."
>> View announcement from college
>> View Business News Article
>> View Honolulu Advertiser News Article
>> View Honolulu Star-Bulletin News
>> See more about gift signing ceremonies