Hotel and Travel
Waikiki skyline from the Sheraton Waikiki Hotel.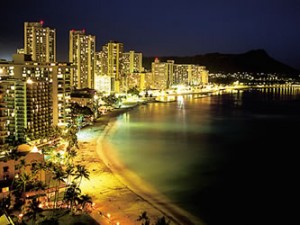 Update:(9/18/2009)
- Hotel reservations deadline extended to October 6th.
- Room rates reduced, plus added benefits: Hawaii residents - $179 Ocean Front + 2pm early check in & 2pm late check out, complimentary self parking and 25% Food credit (was $180 Run of Ocean no inclusions); Non-residents - $199 Ocean Front (was $230 Run of Ocean); Government Per Diem - $177 Run of House (no change)
---
Hotel Information. The conference has reserved a block of rooms at the Sheraton Waikiki Hotel for attendees. Conference room rates are available until October 6, 2009,and may sell out quickly. Room rates quoted will be honored for 3 days before and 3 days after the main conference dates, based on availability at time of booking.
To reserve rooms on-line, select the rate category below for which you qualify. That link will connect you with the appropriate section in the Starwood Hotels reservations system.

Book room on-line at special conference rate

Book room on-line at GOVERNMENT EMPLOYEE rate (requires valid Govt ID)

Book room on-line at HAWAII RESIDENT rate (requires proof of residency)
---
>> Driving directions from Honolulu International Airport to Sheraton Waikiki. >> Hotel's web site and videos of meeting facilities.
---
Honolulu International Airport (HNL) is the major aviation gateway for the State of Hawaii. It is the primary hub for international, domestic overseas, and interisland flights. Honolulu International also functions as a joint military-civilian airport sharing airfield facilities with Hickam Air Force Base. All twenty-three major domestic carriers and sixteen international carriers serve Oahu, with direct routes to American, Asian, and Pacific Rim destinations.
Although there are also direct flights from the mainland to three other islands — Maui, Kauai and Hawaii's Big Island — you may need to connect through HNL on Oahu to get to the neighbor islands. So you can get to the 50th state from just about anywhere. In 2007, the Honolulu airport performed 310,607 aircraft operations and served over 21 million passengers. It is located three miles (5 km) northwest of the city's central business district. Main roads leading to the airport are Nimitz Highway and the Queen Liliuokalani Freeway of Interstate H-1.
Please contact the airline or your travel agent to make reservations. There are also many websites that allow you to search for and purchase airline tickets online. Expedia, Orbitz and Travelocity are just a few. For the best rates and discounts you should make reservations at least 30 days prior to departure. Once on Land to really experience all that Hawaii offers, you should consider renting a car. But shuttles, tour buses, taxis, and public transport are available on most islands.